About Us
Group of professionals for tax services with specialization and organizational skills

Hongo Tsuji Tax & Consulting is a group of professional Public Tax Accountants and Certified Public Accountants. Our services for corporate clients include tax advisory, outsourcing of accounting and back-office functions, business consulting and M&A advisory.

With the strength of nationwide network and highly specialized knowledge, experience and information, Hongo Tsuji Tax & Consulting meets its customers' various needs and offers the best quality of service in a timely manner.

|  1. Company profile  |  2. Our Services  |  3. HR Advisory and Payroll Services  |
|  4. Overseas services  |  5. Group companies  |  6. Contact Us  |



1. Company profile
Company name
Hongo Tsuji Tax & Consulting
Address
28th Floor, JR Shinjuku Miraina Tower, 4-1-6 Shinjuku, Shinjuku-ku, Tokyo
160-0022, JAPAN
Tel
+ 81-3-5323-3301
Established
April 1, 2002 (Founded in 1929)
Representative Partner
Takashi Tokuda
Staffs
1130 (Including 260 Public Tax Accountants and Certified Public Accountants)
Branches
Domestic: 58  Overseas: 7
Clients
Over 10,000 corporate clients
Web
http://www.ht-tax.or.jp/
(As of july, 2017)

Head/branch
2. Our Services
We provide a wide range of services for all your business segments.
Services for Private Corporation
Bookkeeping
Tax return filing
Corporate Tax Consulting
Second Opinion of Tax
International Tax Consulting
Outsourcing Services
Business Revival and M&A Consulting
Services for Business Succession & Inheritance
Business Succession Consulting
Inheritance Tax Consulting
Services for Healthcare Corporation
Consulting of Hospital & Clinic
Services for Public Interest Corporation
Public Interest Corporation Consulting
Tax Consulting of Public Interest Corporation
Services for Social Welfare Corporation
Social Welfare Corporation Consulting
3. HR Advisory and Payroll Services
How Hongo Tsuji Can Serve Your Needs

Our outsourcing services include from day-to-day accounting operation, preparation of monthly financial statement, payroll calculation to human resource works. By outsourcing administrative works, our client can enjoy cost benefit. Professional tax accountants and certified social insurance labor consultant will provide accurate services.

We also provide specialized services for Foreign-Affiliated Companies such as tax, accounting, HR and outsourcing services.
Services
Payroll Services
Social & Labor Insurance Filing Services
Bank Account Management and Expense Payments
Expatriates Tax Services (Compensation Structuring and Individual Tax Compliance)
Advising on HR Issues in accordance with Labor Law, e.g., Employment Termination Policies
My Number Management
Tailor-made One Stop Outsourcing Service for HR, Financial and Accounting
HR related services
●Payroll calculation and salary payment
●Social & Labor insurance processing and HR system establishment
Monthly financial statements
●Document filing, bookkeeping
●Financial statement preparation
Daily administration
Expense payment, sales, purchase management
Packaged outsourcing
Packaged and customized services for Foreign-affiliated companies
4. Overseas services
Hongo Tsuji directly supports from business set up to accounting and tax services in South East Asia and South Asia.
Services
Bookkeeping
Tax return filing
Prepare financial statements
Prepare reports to Japan
Payroll and other outsourcing
Company establishment
Trade licenses and permission
---


Why Hongo Tsuji
With years of experiences and expanded network in Japan, we do our best to provide attentive and localized services in line with your parent company's expectations on overseas business.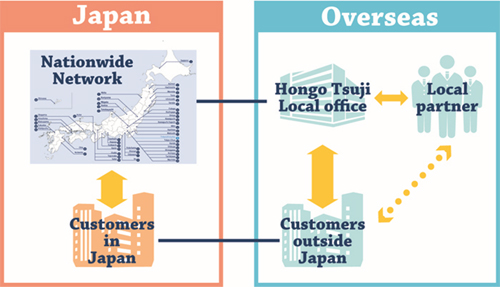 Cambodia
HONGO TSUJI TAX & ACCOUNTING (CAMBODIA) CO., LTD.
◆Address: 1st Floor, The iCON Professional Building, 216 Norondom Blvd., Tonle Bassac, Chamkamorn, Phnom Penh, CAMBODIA
◆Established: 2011/2


Myanmar
HONGO TSUJI CONSULTING MYANMAR CO., LTD.
◆Address: #1219, 12A Floor, Sakura Tower, 339, Bogyoke Aung San Road, Kyauktada Township, Yangon, MYANMAR
◆Established: 2015/4


Thailand
Hongo Toyo Accounting Co., Ltd.
◆Address: 32/27 Sino-Thai Tower 6F, Sukhumvit 21 Rd. (Asoke) Klongtoey-Nua, Wattana, Bangkok 10110, THAILAND
◆Established: 2017/4


Bangladesh
HONGO TSUJI CONSULTING CO. BANGLADESH LTD.
◆Address: Crystal Palace, 3rd Floor, House SE (D) 22, Road 140, Gulshan South Avenue, Gulshan 1, Dhaka 1212, BANGLADESH
◆Established: 2015/12


United States of America
Hongo Tsuji Tax & Consulting Ltd. Los Angeles Representative office
◆Address: 11500,San-Vicente Blvd # 416,Los-Angeles,CA 90049,USA

Hongo Tsuji Tax & Consulting Ltd. Honolulu Representative office
◆Address: 2155,Kalakaua Ave., Ste.410, Honolulu, Hawaii 96815,USA





5. Group companies
◆Hongo Tsuji Business Consulting
Address
10th Floor, Marunouchi-chuo Building, 1-9-1 Marunouchi, Chiyoda-ku, Tokyo 100-0005, JAPAN
Tel
+81-3-6212-2832
Established
April 1, 2013
President
Yoichi Arai
Services
・Business revival and M&A advisory services
・Business alignment
・Business succession consulting
・Public subsidy consulting
・Other consulting
Web
http://www.ht-bc.jp
(As of January, 2016)
◆Hongo Tsuji IT Consulting
Address
28th Floor, JR Shinjuku Miraina Tower4-1-6 Shinjuku, Shinjuku-ku, Tokyo 160-0022, JAPAN
Tel
+81-3-5323-3797
Established
May 11, 2012
President
Hirofumi Watanabe
Services
・IT Consulting ( BPR, Management of information security etc. )
・Assessment, Analysis, Construction of Accounting and Finance system
・Introduction, Construction of ERP ・ CRM system
・IT Support ( Management of Data Centre Server etc. )
Web
http://www.ht-it.jp
(As of January, 2016)
◆Hongo Connect & Consulting
Address
28th Floor, JR Shinjuku Miraina Tower4-1-6 Shinjuku, Shinjuku-ku, Tokyo 160-0022, JAPAN
Tel
+81-3-5333-1585
Established
November 24, 1993
President
Masato Sasaki
Services
・Consulting ( Business administration improvement )
・Accounting data entry outsourcing and support
・Company establishment
・Cloud system introduction and SE support
Web
http://www.h-cc.co.jp
(As of January, 2016)
6. Contact Us